VISIT OAXACA - SEMANA SANTA & EASTER
OAXACA, MEXICO 2022
Join us for a glorious week in Oaxaca, Mexico engaging in Semana Santa rituals, indulging in world-famous cuisine, visiting archaeological sites, shopping and meeting with artisans in small villages. 
_______________________________________________________
Easter Week -- Semana Santa 2022 
Tuesday, April 12, 2022 to Monday, April 18, 2022

Maximum number of guests: 12
Single Occupancy Room: $3,545 per person
Shared Occupancy Room: $2,945 per person
Price includes:
1 Night in Teotitlán del Valle Village
Food & Walking Tour in Oaxaca
Monte Albán Archaeological Tour
Mitla  Archaeological Tour
Overnight Artisan Tour in Teotitlán del Valle
Oaxaca Ethnobotanical Garden Tour
Good Friday Procession of Silence 
Daily Breakfast
3 Specialty Dinners & 4 Lunches
Ground Transportation
Airports Transfers
Note: The tour does NOT include airfare, taxes, tips, travel insurance, liquor or alcoholic beverages, extra meals, and local transportation unless specified in the itinerary. 
_______________________________________________________
ITINERARY

TUESDAY, APRIL 12 - TRAVEL DAY
Depart SFO on overnight flight to Oaxaca, Mexico
WEDNESDAY, APRIL 13 - DAY ONE
Arrive in Oaxaca and check in to our restored, historic center hacienda that is now a comfortable bed and breakfast inn, located within easy walking distance of churches, museums, restaurants and markets.

8:30 a.m. Breakfast – Welcome and orientation
10 a.m. -2 p.m. Oaxaca Walking Tour of Oaxaca City—Boutiques and markets
2:00 p.m. Welcome lunch at Top-Rated Restaurant
Evening at your leisure
Optional: Natural Dye Indigo Demonstration at the workshop studio of a local
artisan
(B, L included)
Overnight: Oaxaca City


THURSDAY, APRIL 14 - DAY TWO
8:30 a.m. Breakfast
9:30 a.m. Morning at Monte Albán archeological site where Zapotec chieftains held court for 400 years before the Spanish Conquest . This Zapotec archeological site is considered the greatest Mesoamerican civilization by Chicago's Field Museum of Natural History. You will learn about political, social and agricultural systems, and climb ancient pyramids for a spectacular view of the Oaxaca valley.
1:30 p.m. Taste of Oaxaca food tour (4 hours) Spend the afternoon visiting some of Oaxaca's finest restaurants, family-run cafes and street-corner eateries to sample the best that Oaxaca has to offer. It's chef's choice, and you are in for a treat to discover exceptional cuisine including famed Mole Negro made with chiles, spices and chocolate, with mezcal tasting, and meet the chefs
(B, L/tasting tour)
Overnight Oaxaca City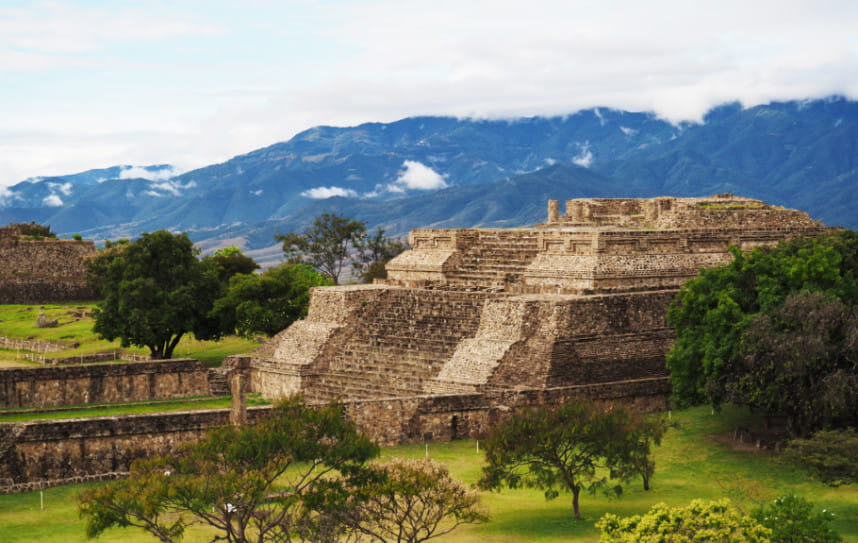 GOOD FRIDAY, APRIL 15 - DAY THREE
8:30 a.m. Breakfast
11 a.m. -2 p.m. Gallery Crawl. We introduce you to gallery owners and artisans who offer a range of fine and folk art for your enjoyment. You will meet printmakers and graphic artists, painters and sculptors, weavers and wood carvers.
2 p.m. Group Lunch
5:00 p.m. We will join the Good Friday Procession of Silence along the mock 14
Stations of the Cross, that winds through the main streets of the historic center. This European tradition was brought to Mexico by the Spanish and re-enacts the trial, crucifixion, death and burial of Jesus.
Evening on your own.
Overnight Oaxaca City

SATURDAY, APRIL 16 - DAY FOUR
8:30 AM - Breakfast
10:00 AM - Savor the 24-karat gold leaf embellished Santo Domingo Church
11:00 AM - Take a three-hour guided tour of the Jardín Etnobotánico de Oaxaca  to explore the biodiversity of Oaxaca plants used for food, fiber, shelter and folk medicine.

Lunch on your own.
4:00 PM -  Transfer to Teotitlán del Valle, Oaxaca and check-in to our village lodging.
5:00 PM - Visit artisan weaving studios that create handmade rugs, wall-hangings, clothing, accessories and home goods from naturally-dyed wool and locally grown silk worms.
7:30 PM - Supper
(B, D)
Overnight in Teotitlán del Valle
EASTER SUNDAY, APRIL 17 - DAY FIVE

8:30 AM -  Breakfast
Morning on your own to attend Mass at the Village Church or hike to the reservoir or around town.
12:30-6:00 p.m. Depart for Mitla archeological site, market, artisan workshops and mezcal tastings with lunch
7:30 p.m. Light supper
(B, L, D)
Overnight in Teotitlan del Valle
MONDAY, APRIL 16 - DAY SIX

8:30 AM - Breakfast
10:00 a.m. Artisan home visit and demonstration in El Tule,
Visit the 3,000 year old El Tule Tree on our way back to Oaxaca City
Afternoon and Lunch on your own

5:30 PM - Grand Finale ExpoVenta mixed artisan show and sale
7:00 PM - Grand Finale Gala Dinner
Overnight Oaxaca City
(B, D)


TUESDAY, APRIL 19 - DAY SEVEN
Free day for last-minute shopping and visiting your favorite local spots. 
WEDNESDAY, APRIL 20 - DAY EIGHT
Departure Day

Take this study tour to learn about:
 culture, history and identity
 art and architecture
 fine dining using innovative ingredients
 humble country cooking – homemade tortillas and tamales
 wool spinning and weaving
 clothing design and construction
 embroidery and supplementary (pick-up) weft
 Oaxaca textile designs — iconography and significance
 village and individual identity through clothing
 social justice, opportunities and women's issues
 market days and mercantile economy
 local cuisine, coffee, cacao and chocolate
 quality and value

 We visit artisan craft villages
 We enjoy home-cooked meals
 We sample Oaxaca culinary traditions
 We meet makers and directly support them
 We go far and away, off-the-beaten path
 We decode the weaving designs unique to each woman and village
 We explore market towns
 We understand the sacred, mysterious rituals of Semana Santa
__________________________________________________________________
This Semana Santa Easter Week Cultural Tour is presented by Norma Schafer,
Oaxaca Cultural Navigator LLC in collaboration with Darlene Tenes, CasaQ.

TOUR OPERATOR
Norma Schafer, Oaxaca Cultural Navigator LLC, will serve as your tour operator and accompany our group throughout the week in Oaxaca. This will include making and paying for all lodging reservations, meals, transportation, honoraria to artisans, deposits and final payments to suppliers/vendors. We reserve the right to substitute instructors and adjust the program as needed.
RESERVATIONS 
A $1,000 deposit is required to guarantee your spot. The balance is due in two equal payments. The second payment of 50% of the balance is due on or before September 1, 2021. The third 50% payment of the
balance is due on or before December 31, 2021. We accept payment using online e-commerce only. We will send you an itemized invoice when you tell us you are ready to register. After December 31, 2021, there are no refunds. If you cancel on or before December 31, 2021, we will refund 50% of your deposit received to date. After that, there are no refunds.

If we cancel for whatever reason, we will offer a 100% refund of all amounts
received to date. All documentation for plane reservations, required travel insurance, and personal health issues must be received 45 days before the program start or we reserve the right to cancel your registration without reimbursement. 
CANCELLATION AND REFUND POLICY
We accept e-commerce payments only. We will send you an itemized invoice when you tell us you are ready to register.  On and after the 60th day before a program start date, refunds are not possible. If there is a cancelation on or before the 60th day,  50% of your deposit will be refunded. After that, there are no refunds.  More info >
PANDEMIC PRECAUTIONS
All travelers must provide proof of vaccination for COVID-19 to travel with us. You must also wear CDC-approved face masks, use hand-sanitizer, and maintain all public health precautions.

Questions? Contact Norma Schafer, Oaxaca Cultural Navigator LLC at
norma.schafer@icloud.com